29.09.23
Finding Your People – Nagesh Seethiah of Manzé
We sat down to chat with one of Melbourne's most exciting new culinary minds to explore the journey of discovering his identity...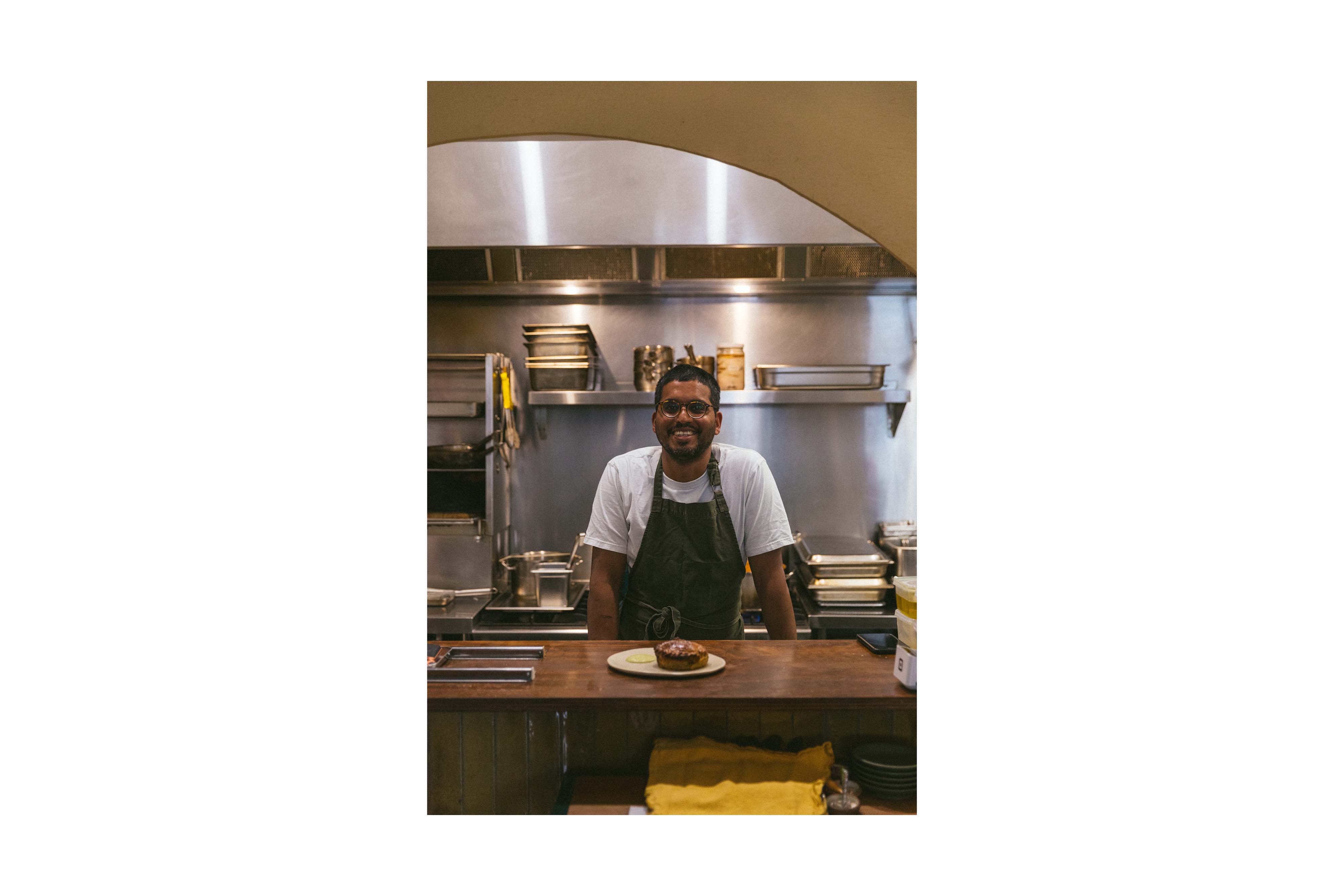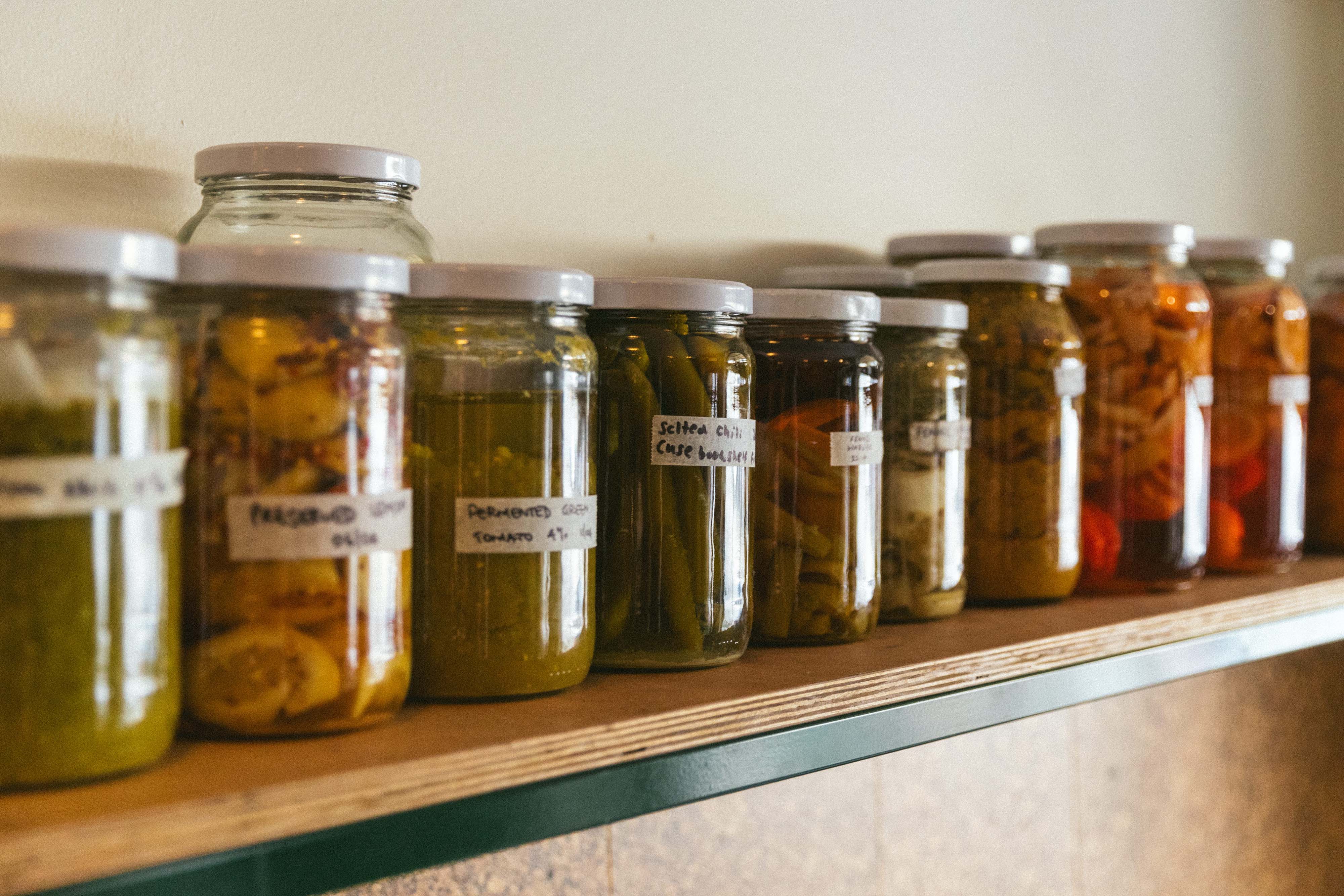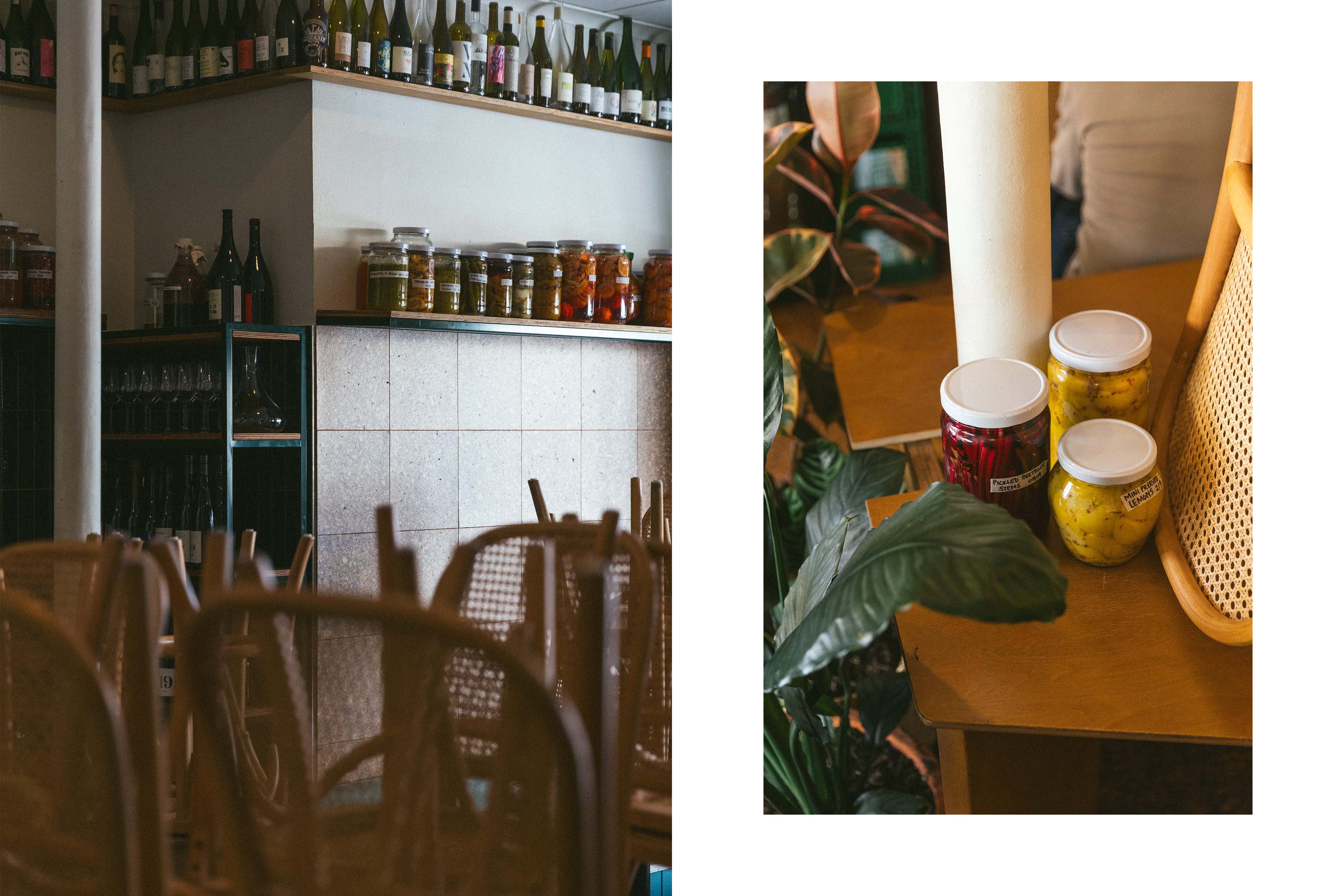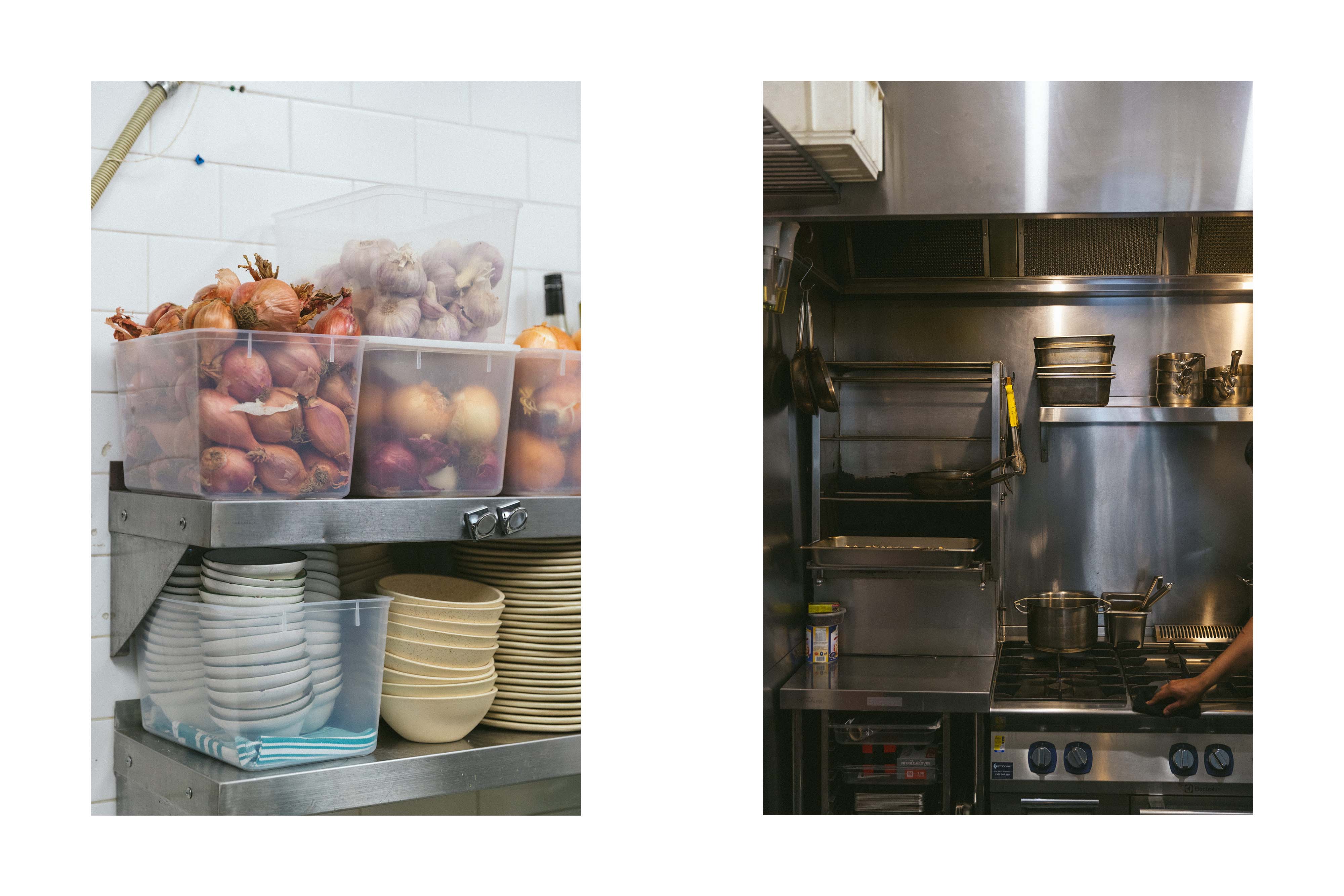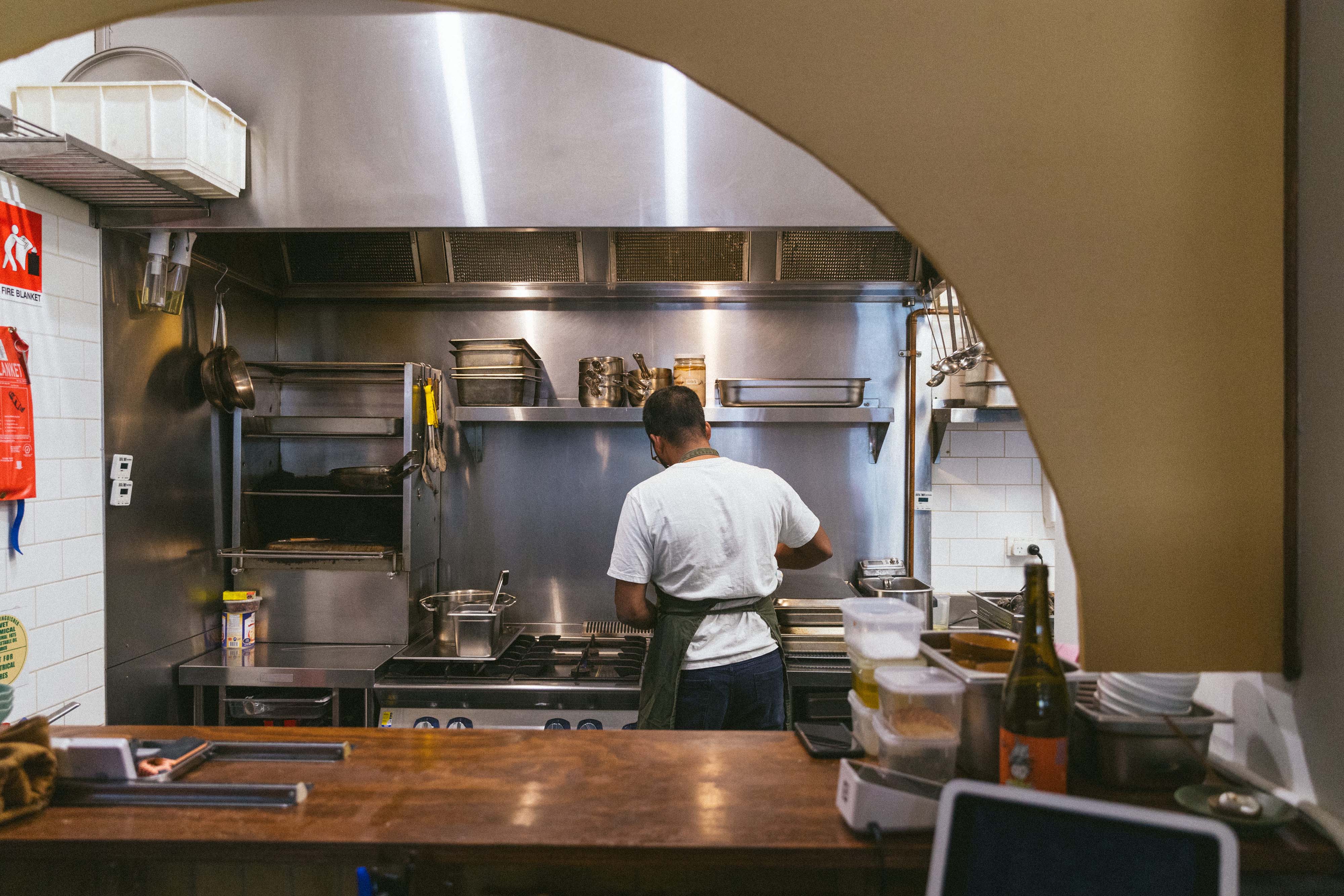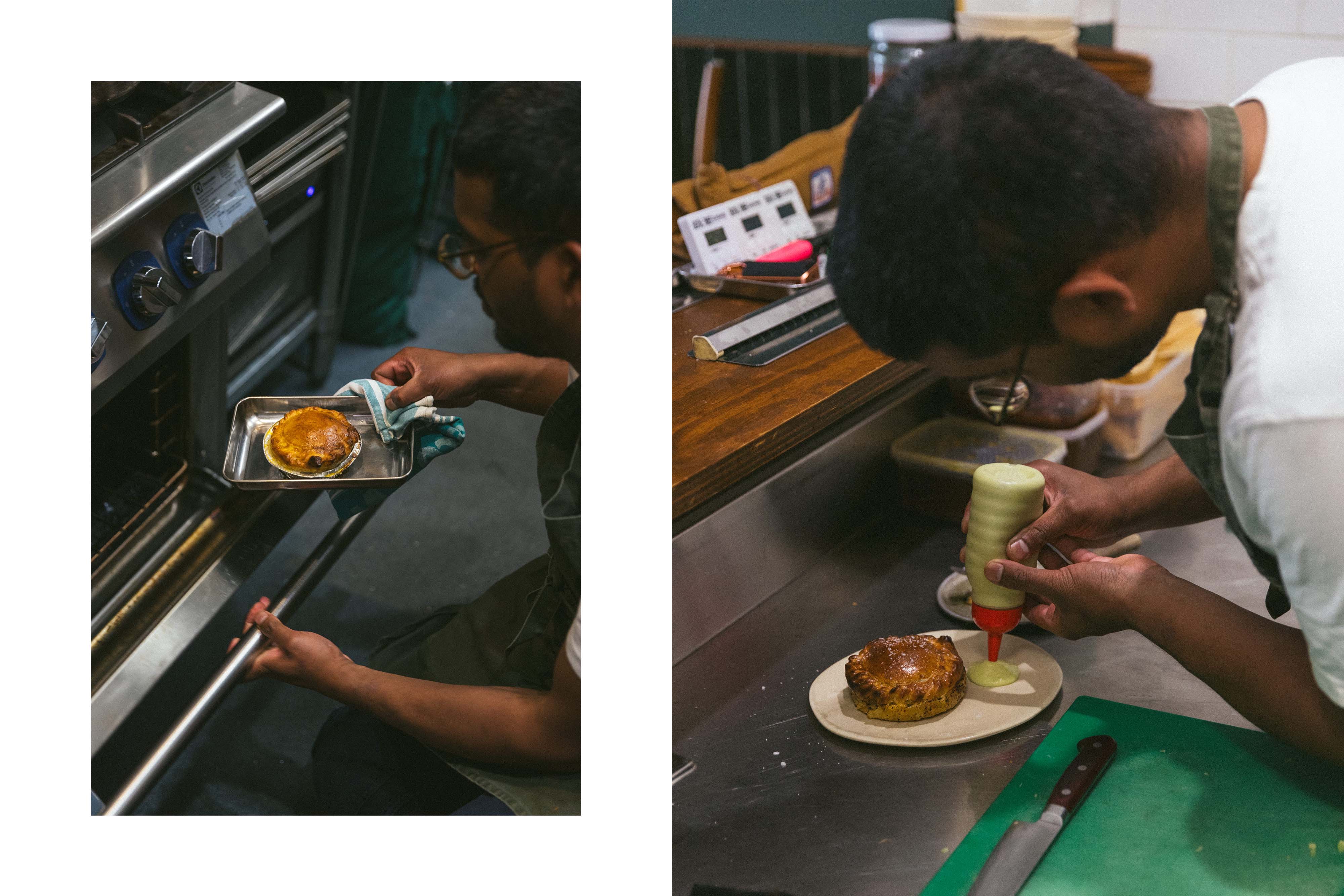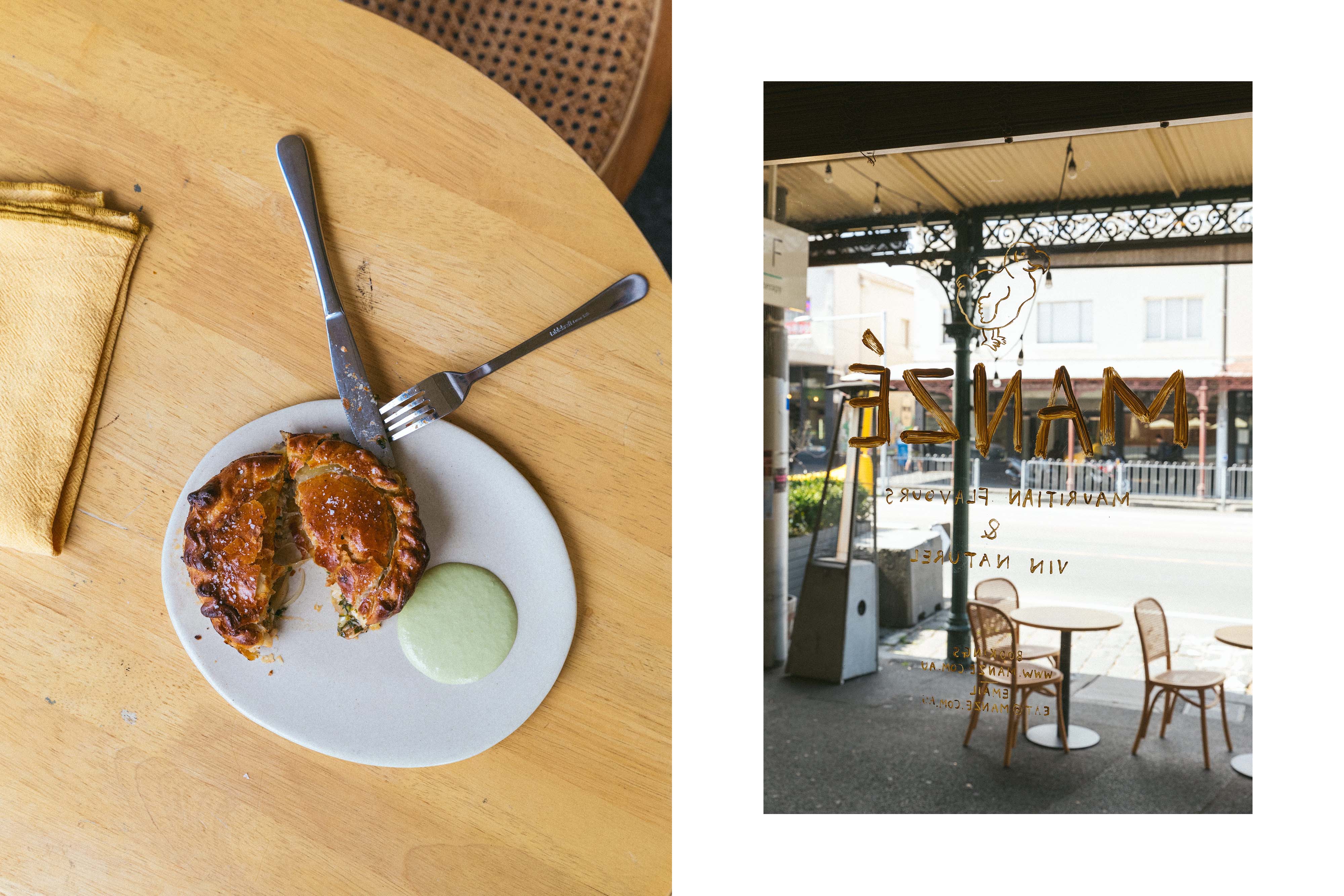 Nagesh Seethiah is a popular man. When we arrive he's quick to apologise—he's running late thanks to an interview earlier. We're chatting at his Mauritian restaurant Manzé (creole for eat/food) which has just made Gourmet Traveller's list of the 25 best Victorian restaurants. He's made his first TV appearances, launched a gelato flavour with Piccolina and most recently created a pie with North Melbourne neighbours Bread Club.

We're here because of something else though, Nagesh is more than a break-out name in Australian hospitality. Instead we're here because in many ways Nagesh is one of us. Well before he came to Melbourne, before TV spots and sponcon, he was a customer of ours. It's fair to say, we knew Nagesh before he was famous… A longtime fan of labels like Engineered Garments, orSlow and Kapital, it was through clothes we first crossed paths. As Nagesh and Manzé grow in stature, we wanted to chat about his journey to this point.

We post-up in the front booth next to the window with a hand-painted sign by Manzé co-founder and artist Jason Phu. Nagesh sits down to join us. We've pulled him away from tonight's prep but the team in the kitchen have everything under control. We've got a bit of time to chat before staff lunch and then service.

Before getting into the nitty gritty, the chat begins with clothes. Nagesh is wearing a conspicuously clean white tee under a Kapital jacket and Engineered Garments pants—a brand he loves for its hard-wearing character. On his feet are all-black Salomon XT-6 but he admits most of his time is spent in Birkenstocks. I question whether he wore this outfit deliberately but he laughs it off, saying most of his wardrobe is from us anyway. We digress about the attention-to-detail of orSlow before a reminder about time put us back on track…

We begins simply with a question about his childhood. Like many times throughout this conversation, what seems simple is anything but, "I lived in Mauritius until I was eight…You could say it was typical island living in many ways". Memories from Mauritius were those of fishing, family cooking and the local community.

The small island nation sits about 2000km east of Africa in the Indian Ocean, off the coast of Madagascar. One of the most densely population countries in the world, Mauritian history is one of colonialism and sea trade. Over centuries the island was claimed by Portuguese, Dutch, French and most recently British authorities in 1810 before gaining independence in 1968. Mauritius is incredibly ethnically diverse "One of my friends is Mauritian Chinese and people are a bit baffled when we say we're from the same place. We look so different and then we speak Mauritian creole which sounds like French" Nagesh laughs.

At the age of 8, his family moved to New Zealand (Aotearoa). Nagesh recalls how his background affected how he related to others, "There weren't many Mauritian people at all, not in the same way as a Chinese or Indian community, so I wasn't really sure where I fit in." As they bounced around Nagesh found moments of joy, like when the family lived on a hobby farm—reminding him of his Mauritian lifestyle—living in a community where produce, farmer and consumer were intertwined in a way not common in metropolitan cities. Despite his mother's best efforts though—recreating the family masala and bringing pickles from Mauritius—Nagesh struggled to feel at home in NZ.

A passion for literature did little to provide direction as Nagesh finished high school two years ahead of schedule, "I ended up going back to school because I didn't know what I wanted to do, aside from going on a BMX tour of the South Island" he grins. During his second stint an art teacher made a marked impact on Nagesh, "He didn't just take us to galleries, we'd go on walks around the neighbourhood where he'd teach us about the architecture and history of the houses". This appreciation for the beauty in everyday items is what clicked with Nagesh, "It made me see things differently…When you read books from people like Shakespeare it's hard to align your life with that."

After a transformative school year, Nagesh decided to abandon his BMX dreams and study art history. For college he turned his sights to Australia, "I had a cousin studying in Canberra and mum said 'Why don't you apply there?' so I did without really thinking about the consequences". Next thing he was on a flight to Canberra, "It was a shock coming from the NZ countryside." I remark to Nagesh that Canberra is almost like a mining camp for bureaucrats—a premise which elicits a chuckle from everyone "you know that's actually perfect" he remarks. "The most shocking part was how uniform everything is".

Although he loved studying art history, being one of the few migrants on campus left Nagesh feeling not such much displaced as unfulfilled. Chasing something outside of uni, he took a job at a cafe. "I think I got lucky, it seems commonplace now but to be roasting coffee in-house and playing cool music felt unique". Whilst studying, Nagesh found himself working more in kitchens, "at uni you hang out with people your own age but they're all the same type of person…in hospitality you meet so many different people".

Nagesh met one of his best mates at this time, Malcolm Hanslow. Now chef/owner of Pilot and Such and Such, Malcolm was the head chef of eightysix—one of Canberra's top restaurants. "Once a week we'd catch-up at the skate park, get a coffee and he'd get a tattoo…I didn't really understand what he did except work from 9am to midnight". When Nagesh ate at eightysix it sparked something, "It had this big open kitchen…They were playing Biggie and Tupac…The food was great but not pretentious…I hadn't experienced anything like that before." In some ways it felt familiar, "Coming from skate and streetwear, I was aware of that world with brands like Supreme, Palace, SB's…Blogs like Hypebeast and The Sartorialist…I hadn't realised food could be part of that". Around this time two important things happened; Nagesh started a new job and he undertook an Honours of Art History. Although vastly different, these two choices would ultimately lead him where he is today…

When restauranteur Nic Smith returned from Melbourne to setup Bar Rochford—Canberra's first contemporary wine bar—Nagesh wanted to be a part of it. The head chef would be Ian Poy from eightysix, who Nagesh knew from eating at the restaurant. As he puts it, "I essentially begged him for a job" to which Poy agreed. Thanks to a delayed launch, they spent a summer trialling recipes at which time Nagesh was introduced to chef Poy's approach. Characterised as fine dining executed in an approachable way, much like what he'd seen at eightysix Nagesh connected with it immediately, "It was all the things I enjoyed about other parts of my life [fashion, bikes, art] applied to food". Ian formed relationships with local farms which was reminiscent of Nagesh's childhood in Mauritius, where his grandmother would source ingredients from farmers. Although completely out of his depth on opening night he learned quickly, describing it as "one of the most formative jobs I've ever had". In the fast-paced, dynamic kitchen environment Nagesh realised his love for cooking.

As he worked full-time Nagesh was still doing his honours. His thesis was focussed on contemporary artists with migrant backgrounds, which lead him to Sydney-based artist Jason Phu. By-chance Jason was a mutual friend of Nagesh's partner Sabrina—a gallery curator. When Jason flew to Canberra for a show, Nagesh introduced himself, explaining to Jason that he was a subject in the paper. "I remember, asking if I could interview him and he said no". Undeterred, as Nagesh puts it "I thought, well I'm writing about you anyway!".

After a brief stint working in Canberra galleries, a year later the couple found themselves living in Melbourne, spurred-on by a role at West Space for Sabrina. Nagesh was working in kitchens, "I thought about a gallery job, but it's easier to get work in a kitchen". Not long after they arrived in Victoria, Jason started an artist in residence at West Space.

The gallery organised a patrons dinner with Jason for important gallery personalities, but they were short a caterer. Ever supportive of his endeavours, Sabrina encouraged Nagesh to do it. "It was in a fancy house with a really nice kitchen…It was a great experience because I got to talk with people, tell them about the food and see them eating it". This was a first for Nagesh outside of dinner with friends. "The adrenaline really got me…I loved it". Through this, Nagesh inadvertently became the go-to for art dinners. "We started doing it at home more as well, if someone like Jason was in town we'd invite people, cook and sit around the table…Pretty typical stuff." It became a dinner club of sorts, with Nagesh working through the week and hosting weekends, "I'd cook all night then join everyone at the end…I'd end up falling asleep at the table or going to bed whilst everyone else had fun…But my joy came from the cooking". It was clear they were onto something.

With encouragement from work colleagues they took a chance during a two week break Nagesh had from work, "We used to go to Rockwell & Sons on Smith Street every week…I asked them if I could do a pop-up and they said yes". With help from friends and family they cobbled an event together and booked it out. "It was a mix of hospo people, Sabrina's art friends and my sister's fashion friends". All of this conspired to make a memorable experience for Nagesh, "It was probably one of the worst days of my life" he laughs sheepishly "But when I look back on it, somehow we put on an event with almost no money and everyone loved it". Within weeks Nagesh was doing another pop-up which was "Equally a shambles" with a third not far behind. After two years, they had notched-up a total of seven, each time getting a bit more confident buoyed on by the support of the people who turned out.

A weekend residency outside of the city at Avani Winery's restaurant offered a new challenge for Nagesh and Sabrina, "It was amazing to have these people we didn't know telling us how much they loved the food…I'd never had that sort of experience before". It was clear they were capable of running a restaurant, but at the end of that year, Sabrina decided to study masters whilst Nagesh left for Copenhagen to dive into the world of fine dining. The problem? The year was 2019 and the world had different plans. Although the idea of fine dining had been appealing, his brief stint in Copenhagen showed it wasn't really what Nagesh wanted "It was a really good experience, but it was enough for me to know I didn't want to be part of that world. I preferred something more approachable". COVID meant he had to bug-out and come back to a city locked-down.

During that lockdown hospitality workers provided an essential service to their local communities. Fortunate to be employed, Nagesh and fellow chef Jack Shaw (of Hope St Radio) started cooking soup for those out-of-work, "Each Saturday we'd cook up a 60L pot of soup and put a call-out on social media for those in-need…I often forget about it but we did that all of 2020 into 2021". To this day he still meets people who mention that he delivered them soup.

The stillness of lockdown allowed time for introspection. For Nagesh it gave him space to think about what he really wanted to do. "I had time to read books again, listen to podcasts and do things I hadn't done since getting into hospo". It's at this time ideas from those pop-up dinners started to resurface. "Jason and I started talking and he introduced me to his friend [and journalist] Osman Farqui who writes about identity politics in Australia". The two met for a drink and chatted about how identity related to Nagesh's cooking. As their friendship grew the conversations continued, until one day when Osman saw Nagesh for lunch, "He said 'How long are you going to cook other peoples food?' Which caught me a bit by surprise".

Weeks later whilst Nagesh was sleeping, a group chat between all three lit-up with Jason and Osman discussing opening a restaurant. "They were messaging at 3am so I didn't really think of much of it when I looked at my phone in the morning" he remarks. A call from Jason a few days later changed that, "He said to me 'You need to call Os he's really serious about this' so I did and we got to chatting".

Coincidentally Nagesh and Sabrina had been toying with the idea of opening a place and had a rough business plan. He took that to Jason and Os as a starting point, "I wanted to do something small and unpretentious, centred around Mauritian food with natural wine. We liked the idea of putting it in North Melbourne because there wasn't too much going on". As Nagesh puts it "I had all these random skills thanks to my upbringing…I reckoned I could build the fit-out and get it open for a bare minimum cost". Os and Jason got on board and things moved quickly. A lease was signed for a space on Errol St in North Melbourne and the fit-out was designed, "My really good friends at Sonelo designed the interior and I essentially built it myself…Without their help we couldn't have come up with something like this". By December 2021, Manzé was opened and it's been non-stop since then.

Like so much in the Manzé story it's community which made it possible. Without like-minded people it's fair to say the restaurant wouldn't exist. Even now after almost two years Nagesh relies on a close-knit network, "If we need flower we walk down to Bread Club and grab a bag without worrying about wholesalers. We'll repay the favour by taking them a meal or sharing a wine one afternoon."

From the moment you walk into the space it feels calm and welcoming, but as you look you'll notice the sheer amount of fermentation and preserving happening all around. The shelves overflow with jars of brightly coloured pickles, each labeled with contents and dated. The flavours are memories of Nagesh's childhood—a distillation of the cultures which call Mauritius home—created with the freshest locally sourced produce. Manzé is as much about Nagesh's journey as a Mauritian migrant as it is about an unwavering commitment to quality.

As the interview wraps, we're invited to join the team for lunch. On the menu is chickpeas cooked in masala spices, served with pickled cauliflower and a slow-fermented bread called puri. Sitting together we mull over similarities between Manzé and UP THERE. It's striking how similar the journeys sound—from daydreaming to long nights of building—it's a story we know all too well. That similar spirit caused us to find each other, no matter the industry there are points of convergence which bring like-minded individuals together. What drew Nagesh to UP THERE was our brands which focus on quality, durability and an unpretentious appreciation for design. These same sorts of principles are what drive Manzé, a place where the experience isn't sullied by an implied dress code or a daunting service.

Thanks to big-budget development it's becoming harder than ever to provide an authentic experience, but with the help and support of a community it's still possible. After a lifetime searching for a place to fit in, Nagesh finally found his people by putting his story on a plate.

Now, manzé!